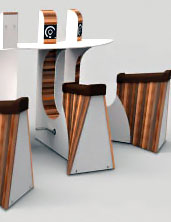 The Mayans.
As you may have heard—or seen in the moving Roland Emmerich feature film—they predicted a little apocalypse for later this year.
And hey, it may not happen. Then again, it might.
But if/when it does, you can rest easy knowing this solitary, simple fact...
There's now a way to power your laptop with a Schwinn.
Meet
WeBike
, a futuristic work space with a built-in, revolutionary, energy-generating... stationary bike, available now.
At long last, someone (it was the Belgians) has figured out a way to combine sitting and working on TPS reports with cardiovascular exercise and looking ridiculous.
All you need to do: sit on this mountain bike turned cubicle, and pedal. The more you do, the more energy produced. Energy that'll be used to run anything plugged in at your desk. Green: yes. Efficient: no. A great excuse to start wearing bike shorts to the office: certainly.
So before you order a whole fleet of these for the marketing department, you should be aware of a few things. First, you have options (mainly, color, an integrated 3G router and workstation arrangement). And second, it's available in a handsome cedar wood-grain trim.
Like a station wagon. From 1982.