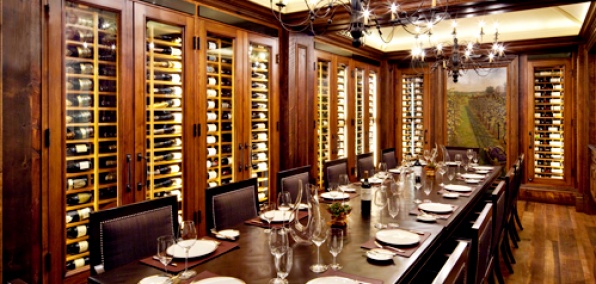 June: the beginning of summer Fridays. The end of basketball (maybe). Also, the end of tuxedo season.
Unless, of course, you're called on for some spot–James Bond duty. Literally.
Like
The James Bond Dinner
, a one-night-only, five-course feast at the Jefferson hotel in which every course (and every wine) is inspired by references from a Bond book or movie.
Now, you've got a couple options, the way we see it: 1) stroke your pet cat while you concoct a fiendish plan to destroy this dinner, or 2) have Moneypenny make you a reservation, then don your finest tuxedo and make your way here with a date (bonus points if her name functions as a double entendre).
You'll arrive in the hotel's private wine cellar, where you'll see the table graced with bowls of Siamese fighting fish. They'll hand you a Vesper cocktail as you get to know your fellow 007s (we hear there may be a Jaws or a Q in attendance as well).
From there, it's on to your five courses of haute Bond, such as
caviar, foie gras torchon and flaming beef kebabs
. In your glass: Bond's favorite wines, like Bollinger champagne and plenty of chianti and claret.
At night's end, you'll depart through the hotel's secret passage, normally reserved for heads of state and other VIPs.
Where you'll no doubt fence against your archrival.