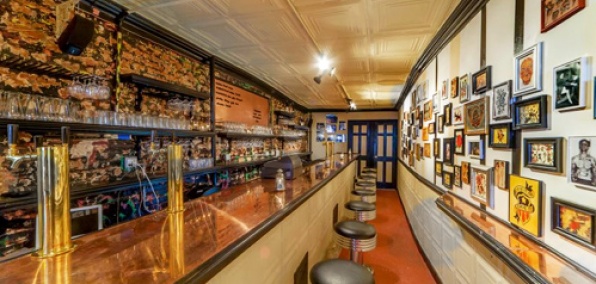 Maybe it's the protest sign someone foisted on you yesterday. Maybe it was the drum circle you got swallowed into. But lately, you've been thinking about the working man...
Marx's special children. The "not 1%." The good old proletariat.
And it all just made you want a beer.
Well, introducing
Proletariat
, a tiny enclave of hard-to-find brews from the Death + Company guys, now tucked innocently behind Jane's Sweet Buns and easing your philosophical strife with hops.
You've probably popped into
Jane's
whilst jonesing for a bourbon-soaked sticky bun. And who could blame you. But now, you're going to walk in, give a wink and a nod, and just glide on through the door to the right of the counter and into this 10-seater (prepare to stand). The scene: a tattoo-photo-bedecked wooden nook where you'll come for something that doesn't beat around the bush so much—something called beer.
And speaking of that: it's going to get the best kind of weird here. As in a daily rotating menu of stuff that comes to the city maybe once a year. And versions of a Dark and Stormy that are strictly made with porters and hop tinctures. In case you're keeping score at home, "hop tinctures": essentially, bitters made of beer hops, which they invented for this place. Pretzel sandwiches will soak it all up.
Trotsky loved pretzel buns.