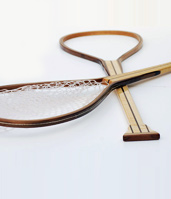 Finally. The weekend.
The possibilities are endless. Hiking. Fishing. Camping. Hunting. (Boston Common really has something for everyone.)
The problem: your supplies cache for taking all that on is a bit low.
The solution: this website from some guys in Big Sky Country.
Presenting
Meriwether Field Gear
, a new Montana-based online store for finding
A River Runs Through It
-ish things, available now.
Picture the rugged yet polished handsomeness of Harrison Ford in his prime. Now fuse that with outdoor gear that any self-sustained hunter/adventurer in the deep, deep north Maine woods would be found with. That's this stuff.
And by stuff we mean gorgeous, woody stuff. Think: beautiful maple and walnut hiking sticks (Brookline can get a tad hilly), wading sticks, even slingshots (which are great for hailing cabs). Also: Hemingway-worthy large fishing nets and hand-carved, double-edged axes made from laminated maple and walnut and named after Teddy Roosevelt (a known outdoorsman and carrier of big sticks).
But it's not just sticks and nets and things. They also carry an assortment of sleek field bags, fleece jackets, town coats, suspenders, skeet pouches and wading bibs (which can double as lobster-dinner gear). Not to mention the kind of classic Stanley vacuum thermoses that Papa Hemingway probably used for transporting black coffee during big-game trips in Africa.
It's been too long since you've used a thermos for anything.