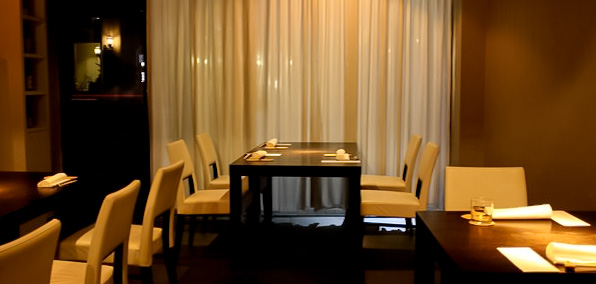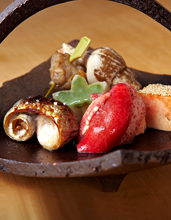 Hey, let's do math.
You're solving for y.
z (1 - z) y + [c - (a + b + 1) z] y - a b y = 0
Kidding.
But seriously: 8 seats + 1 chef × an infinite number of nigiri = ...
If you're stuck, just read on.
You'll find the answer in the second coming of
NAOE
, a beloved den of omakase and sake that's making its grand return in Brickell Key, now open.
Seems like it was only yesterday that you were chopsticking into NAOE's infamous salmon belly (okay, it sort of was). And then, just like that, without warning, it was gone. Closed. Fin. Sayonara. Hasta la vista, baby.
Except... it turns out NAOE wasn't dead after all. It had just moved to a new address on Brickell Key. A location with only eight chairs, just two seatings (6 and 9:30pm) and absolutely no menu. Because, as you might recall, everything here is chef's choice (they're not big on free will in Brickell).
So this weekend, you'll slide into one of those sought-after leather seats at the hinoki-wood bar and let the chef do his thing—inventive omakase, impeccable bento boxes, obscene amounts of nigiri. And to wash down all that dock-fresh fish: sake that comes from his family's brewery in Japan. Get a bottle for your food, and one to go (it's the only type of leftover you'll be allowed to take home).
Also, it's a way better souvenir than a matchbook.