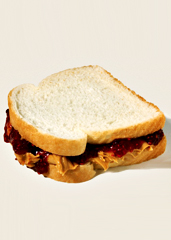 There are those things that fill you with the promise of American ingenuity. Then there are those things that convince you we're entering our late-Rome phase.
Sometimes, they're even the same thing.
Presenting
Peanut Butter Jelly Time
, a new truck that starts rolling next Friday as the current generation's latest attempt to define itself, for better or worse.
First things first: yes, you can make a PB&J at home. But then again, you won't be home when you see this big white mail truck festooned with anthropomorphic bananas and slices of bread.
Your drivers/sandwich makers: a couple vets of Sticky Rice and Dangerously Delicious, who will be wearing 1950s paper diner hats as you make your way down the window of their cafeteria-style operation.
There are two ways to go here: opt for one of their signature sandwiches like the
Elvis
(peanut butter and half a banana on a hot dog roll) or go DIY and build your own stack of nostalgia. Maybe it's grape jelly and almond butter with Cinnamon Toast Crunch cereal on challah. Or cashew butter and bacon on grilled banana bread.
And that's about it. Oh, except for this: your sandwich comes in a brown paper bag, with a choice of chips or apples, and a carton of milk.
Yes, they'll cut the crust off.