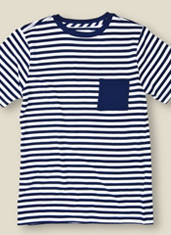 Quick, find a pool.
Now shotgun a martini, scream something tribal-sounding and do a Triple Lindy into it.
We'll wait...
What you've just experienced is something called "spring."
And seeing as that's the case, now might also be a good time to experience something called "looking the part."
Enter
Stag
, the Austin-based emporium of all things dapper that just opened up a bouncing baby online shop full of blue suede wingtips, seersucker swim trunks and engraved silver flasks (that happen to fit perfectly in the pockets of seersucker swim trunks), available now.
If a Wes Anderson movie exploded and landed on top of a general store in Butte, Montana, the end result might look a lot like this. And considering there's a little bit of everything going on in your life, there's a little bit of everything going on here, too.
Take, for instance, that place you go to on the weekdays. Prime pants territory, that place—straight-fit chinos from Life/After/Denim. Electric blue pants with Abe Lincoln's silhouette sewn into them. It's all there.
Not to mention sunglasses for your next road trip. Striped henleys and tank tops from Burkman Bros for... when you would normally wear those. Even candles that smell like tobacco and dark rum.
Ah yes, the coveted pants/candle purchase.