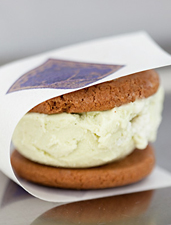 The ice cream sandwich is pretty darn near perfect.
You've got cookies. You've got ice cream. You've got... basically zero room for improvement.
Unless, of course, that improvement happens to come in the form of candied fried-chicken skin and edible wrappers.
Meet
Coolhaus
, a mobile lab/forward-thinking food truck full of experimental frozen treats, debuting this Saturday at Frisco StrEATS.
Good Humor gone weird. That's basically what you're dealing with here. A repurposed postal truck turned rolling creamery where ice cream flavors like gin and tonic are sandwiched between potato chip and butterscotch cookies. And wrapped in edible soy paper. And named after famous architects (it's dessert, it doesn't have to make sense).
So pretend it's Saturday. You're overheated/hungry/suddenly having the morbid curiosity to see what Peking duck ice cream tastes like. That's when you'll take to Frisco StrEATS, track this truck down and score yourself a
Shigeru Banana
(bananas Foster ice cream and a double chocolate cookie). Or something stranger/with meat in it.
And because this is their first trip ever to Big D (they've already got trucks in places like New York and LA), they'll be unveiling an honorary new jalapeño flavor named after the Nasher.
We assume the queso cookies can't be far behind.