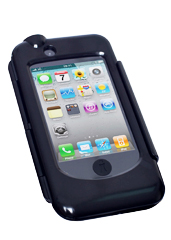 That triathlon-training regimen.
That bike tour through Michigan wine country.
That very important text from Kanye (yes, re: the Kardashian rumors).
You're not going to let some little unforeseen April shower stop you from attending to any of these crucial things... in fact, you can do this simultaneously.
Assuming, of course, you have this:
Bike Mount
, a pretty clever little case that turns your phone into an all-weather trouper ready for whatever spring can throw at you—particularly if it's wet—available now.
Think of this as simply a plastic cover that attaches to your bike handles, letting you slip your phone inside. (Which, in fact, is exactly what it is.) But since this case is thoroughly waterproof—
and
touch-sensitive—it allows you to turn your phone into a handlebar dashboard, and run any app you need while pedaling around town. GPS. Distance tracker.
Fruit Ninja
.
But, frankly: biking is probably way too limiting. Imagine the pool-party Spotify potential. The kayaking-GPS potential. The
Angry Birds Space
tournament potential.
You can finally host it in a hot tub.