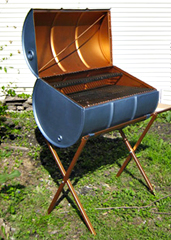 Barbecue-wise, you have nothing to prove to anyone, anywhere.
You just let your bratwursts do the talking.
Nonetheless, you can't be blamed if at this point in the spring you're overcome by the urge to let caution fly and flaunt your prowess at the grill.
For that, there's this:
The BBQ for Men [or Manly Women]
, the cookout equivalent of a 1970s muscle car, available now for your first backyard shindig of 2012.
First of all, we know: right now, it's a little chilly. That's fine. It's going to take a few weeks for one of these to be handmade to your exact specifications, anyway. It's another product by the Chicago tinkerer who brought you a
retro-amplified iPod
. Here, he uses the same design principles, but applies them to that too-long neglected field of charbroiled-hamburger technology.
In other words: he repurposes an 80-gallon industrial drum, adding a bi-level grill and finishing it in the color of your choice. (The base model is icy royal blue on the outside and painted brass on the inside. Earl Scheib couldn't have done better.)
It's fairly portable, too. So you'll probably be showing this thing off at various city parks and stadium parking lots, even the occasional sausage-buying mission up to Wisconsin.
The mileage this baby gets is incredible.