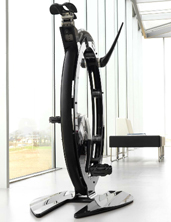 Thank you, Mesopotamians.
Five thousand five hundred years ago, you guys invented the wheel. Well done.
Without you, there'd be no tires, no cars and Pat Sajak wouldn't have a job.
Also, we wouldn't be wearing spandex and sitting on this apparatus in our living room right now.
Introducing
Ciclotte
, probably the most advanced, and unquestionably the most attractive, stationary bike ever created, available online now.
Just to be clear, this isn't the sort of made-for-TV contraption you'd see Suzanne Somers or that ponytailed weirdo, Tony Little, schilling on channel 13 at 3:45 in the morning. Quite the opposite, actually.
This thing: basically a
Tron
-styled carbon unicycle that generates magnetic fields of resistance as you pedal (it's more than likely safe). The chassis: ridiculously sleek. The touchscreen: incredibly advanced. The price tag: enormously large. But when you're talking about the Italian sports car of exercise bikes, what you're really talking about is an investment.
And we see this fitting into your world in many ways. Okay, maybe not many ways, but it would look pretty spectacular in your office (you hate teleconferencing at under 15 mph). Or, as the anchor for your home gym. But if you're still on the fence about getting one, perhaps this will convince you.
They're available in animal prints.
Zebra goes with everything.