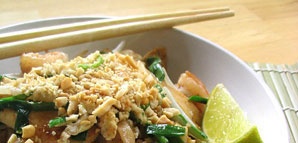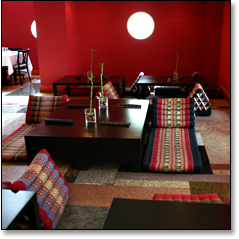 Fusion. You like it. You like what it stands for.
But there are nights when you're not up for all that...mixing, and you want a restaurant that takes a tough stand on culinary co-mingling. A restaurant like...
Izzy's Cubi Thai
, now open on Miami Beach.
Torn between two loves, Izzy's splits your menu evenly down two proud culinary paths, Cuban and Thai. A collaboration between a Cuban restaurateur and his Thai friends, the place employs two sets of chefs and churns out two sets of classics. Dinner starts with crispy plantain chips dipped in lemon garlic sauce, then segues to fiery Penang curry and pad thai noodles, or Picadillo with a side of yucca in mojo sauce. It's the perfect place for those nights when your date is jonesing for ropa vieja, but you've got the fever for spring rolls with peanut sauce.
We should also mention that Izzy's is located in a hotel that caters to workers in the airline industry—and, more specifically, flight attendants. Lots and lots of flight attendants.
Just in case you're interested in a little co-mingling after all...