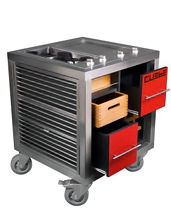 From the extremely neutral folks who brought you Roger Federer, knives with toothpicks (and screwdrivers and scissors) and highly discreet banking, comes this...
A magical device that makes hamburgers and porterhouses.
Okay, it's a grill with wheels. But it's a really good Swiss grill with wheels.
Introducing
Cuebe
, a portable kitchen devoted to the art of cooking burgers, steaks and nothing else, available online now.
First things first, this isn't going to replace the stainless-steel altar perched on your rooftop patio. Oh no, that's sacred grilling ground. But what it will do is make one tasty burger.
Basically, this is a Swiss-engineered airplane cocktail cart that's been fully prepped for cheeseburger flipping/steak sizzling. It's got four wheels, two chrome pop-out counters, a griddle, two burners and drawers for all your tong-storing needs (about time somebody met those).
You'll want to keep one of these around in the event you're hosting a late-night soiree where a pool/hot tub/lazy river is prominently involved. Guests get hungry. Guests don't want to leave the body of water they're floating on. So you'll roll this thing around poolside, searing steaks, serving steaks and becoming a hero.
It doesn't take much these days.