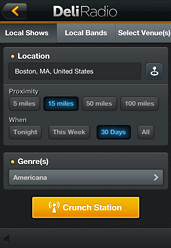 Live concerts are a little like oysters.
When they're good, they're very good. When they're bad, the pain can be unbearable.
We hate seeing you in pain. So we found something that may give you an edge before your next show...
Introducing
DeliRadio
, a new website and mobile app for streaming music of bands playing around town, available now in beta.
This is a little bit like Pandora, only here you can filter streaming stations by artist or music style, as well as actual local venues. So let's say you've just finished a third date, and sometime between dessert and breakfast you recall her saying she loves seeing shows at the Middle East (concerts = ideal fourth dates).
Simply go on the site and search for all shows on the Middle East's docket. From there, you'll not only be able to purchase tickets for upcoming shows, but you can also listen to the bands lined up to play (think of it as bad-oyster screening).
It even combs through the venues and live acts in other cities, should that simmering long-distance relationship with that San Francisco sales rep get to the fourth date as well.
Yes, it's in poor taste if you take two dates to see the same band.