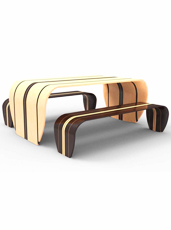 Despite your best efforts...
Despite your commissioning of a custom velour wetsuit...
Surfing in Dallas is just not going to happen.
So we've come to the realization that it's time to move on to the next best thing.
Well, maybe the next, next, next best thing.
Meet
Duffy London
, a UK-based design firm that's turning surfboards into glorious... dining room tables, taking orders now.
Yes, you can finally eat a rib eye on top of a wave-shredding surfboard. And it's all thanks to that surf capital of the world, London.
No, these aren't just some beat-up sticks from Kelly Slater's garage with a bunch of legs nailed onto the bottom. Quite the opposite, in fact. These are limited-edition tables and bench sets (20, to be exact) handmade from rare balsa surfboards. It's the same material that was used for the WWII de Havilland Mosquito planes—an aircraft renowned for its water landings. We assume.
So let's say you've got an apartment design aesthetic that runs along the lines of
Point Break
chic (hey, we don't judge, Keanu Reeves is a lot of people's muse). Or let's say you like really nice things. That's when you'll get one of these lacquered longboard beauties to anchor your dining room. That's also when you'll want to buy bags of sand and seashells to pour all over your floor.
There's no halfway-ing this.