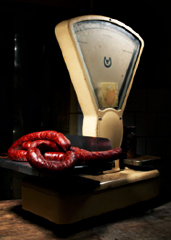 Think back to your last snifter of cognac.
Now imagine that snifter also filled with a bunch of pork sausage and prunes.
Wait, perhaps we aren't doing this justice.
Let's start again...
Feast your eyes on
Proper Sausages
, your new purveyor of tenderly handmade/brandy-infused pork, venison and lamb links, available now at local farmers' markets and by special order.
Meet Freddy and Danielle. They're husband and wife. They love Miami. But if there were one thing they could change about our fair city, it would be the sausage (hey, you can sympathize).
So Danielle, an England expat, and Freddy, a man who knows his way around a meat grinder, paired up their knowledge of bangers and Berkshire pork to create what they call Proper Sausages. You, however, may refer to it as a minor tailgating miracle.
The process: very British in nature. Let's just say it involves fermented-acorn-fed pork, a bevy of spices and wet hog casings. The result: a juicy, marbleized beauty that was made to grace your grill.
And while the pork is the thing here, you'll also want to experiment with some of their more exotic flavors. Like venison and lamb. Or the links that are infused with the likes of figs, blue cheese, prunes, habaneros, cognac and whiskey.
Only 3,408 hours till football season.