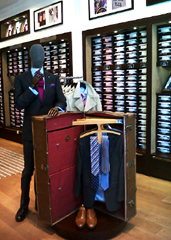 The British have given us many amazing things.
The rule of law. The rediscovery of blues music. Amusing story arcs on
Mad Men
.
But mostly, great shirts.
So say hello to
Charles Tyrwhitt
, a London dealer of poplin, gingham and oxford, now open downtown as only their third US store.
The store is pretty much what you'd expect: a Union Jack here, a vintage steamer trunk there and rows upon rows of neatly folded shirts arrayed on dark wood shelves. And these are buttoned-up shirts, a bit more David Cameron than Richard Branson.
But that's not to say it's all about slim-fitting, spread-collared white herringbones and blue twills. A few more 80-degree days and you'll be ready to up your arsenal of lilacs, greens, even the blue-and-red Prince of Wales check (which, word to the wise, may or may not attract angry mobs).
Of course, you can't leave the house in just a shirt (we don't make the rules). So you'll also want to turn your attention to their handmade silk ties, madras-print pocket squares and Black Label suits—three-piece numbers, 100% stitched in mohair blends, with exposed stitching and functional buttons.
They'll never mess with a man who wears a waistcoat in July.