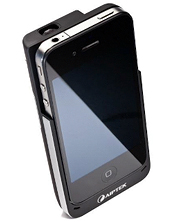 You use your phone to screen things.
Phone calls from Miss Hawaiian Tropic 2011. Texts from Mr. Peanut. Phone calls from Miss Hawaiian Tropic 2012.
But never a Bill Murray movie marathon...
Roll out the red carpet for the
Aiptek MobileCinema i15
, the next big thing in portable projecting gadgetry that turns your iPhone into a multimedia entertainment center, available online now.
Picture an ordinary iPhone case. Plastic. Corners. Holes. Now visualize sliding your iPhone into it. What you've essentially done is turned your phone into a full-on projector. From there, it's a simple matter of positioning it in front of a big wall, and just like that, you can watch things—helmet-cam videos of your backcountry ski runs in Wyoming, or late-night PowerPoint sessions (hey, to each his own).
Basically, this gadget can project small images from your phone and blow them up to roughly five feet. So you could be holed up—sans television—in a yurt in Big Sur and catch up on old favorites like
National Lampoon's Vacation
,
European Vacation
, other things. Or treat your friends to one of your infamous home-movie marathons.
The projector has a three-hour life span and comes equipped with a battery bank that also charges your phone.
And life marches on...