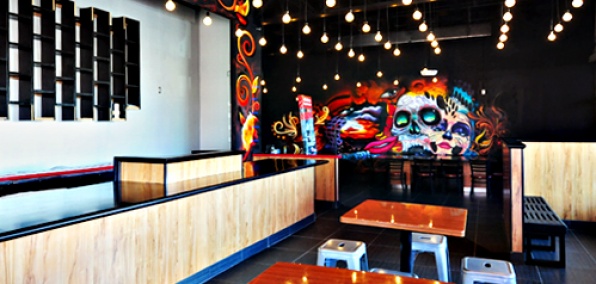 Trucks are good.
They transport stuff. They have fun-sounding horns. From time to time, they even serve tacos.
Yep, pretty great. Anyway, one of the best just went and became a restaurant...
Presenting
Latin House Burger & Taco Bar
, the brick-and-mortar incarnation of the rib-eye-stuffed-taco-shilling food truck, soft-opening April 23.
We know. Kendall. Not exactly a hotbed for thrilling escapades. But stay with us.
Your adventure starts at a set of flaming-red doors. Behind them: black walls spray-painted with sexy eyes and flaming vines. Also, a longhorn skull perched above where you'll order burritos. In other words, the kind of place Ozzy would've gone to cleanse his palate after eating that dove.
So come here on a Tuesday afternoon. Or a Friday night. Whenever you have a craving for a half-pound brisket/chuck/sirloin burger topped with bacon, avocado and Mexican crema (which is to say, anytime). But you'll also find
tacos, burritos and the like
.
As for drinks: there's 24 rotating beers on draft (UFO, Andygator). And a tequila bar with 20 different bottles (soon to be 40)—with one called Kah that's fashioned after Día de los Muertos skulls. Which is exactly what's in your mango habanero margarita.
Good thing you travel with a flask of milk.