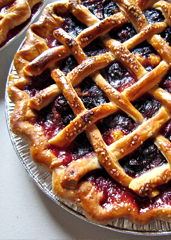 Whatever you just had for lunch, we bet it wasn't pie. Pity.
Better make sure that never happens again.
Here's how: sign up for the
Pie Subscription Service
, available now from the bakers at Whisked to guarantee you're always in the company of food baked into a crust.
This is just like those CSAs that you can use to get vegetables every week in the summer. Except for one key difference. Which you've undoubtedly deduced by now.
Here's how it works: you'll want to hop on their site before midnight on Tuesday (that's tonight, if you're scoring at home) to see what the week's flavors are. This week, it's
Pink Lady Apple Whiskey
and
Asparagus and Goat Cheese
. So far, so good.
And sure, you could just order one of them up. But you hear (because we're telling you) that future weeks may include strawberry-rhubarb or savory apple with blue cheese and caramelized onions. And you'll want to be a part of that, so your best bet is to order up a subscription of a pie or two every week, in either six- or nine-inch renditions.
As soon as 5pm Friday rolls around, you'll be free to pick up your pies at any of four locations around the city.
"I have to pick up my pies" is a great excuse to leave work early.