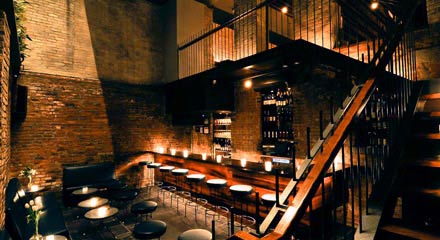 Your appetite for
underground lounges in Chinatown
is nearly unquenchable. Let us try.
Behold
BEast
, the newest...underground lounge in Chinatown, open Thursday.
While BEast has been quietly tucked beneath vegan-friendly Broadway East since its opening last year, a lot has changed (a new
liquor license, some new décor and most importantly some new cocktails), and it's now ready for your expert lounginess. Santos Party House's co-owner Ron Castellano is curating the experience (code for bringing a fun crowd, crazy DJs and some art), including adding a wall dedicated to rotating video art (kind of like important screensavers).

All you need to do is show up to Broadway East, find your way down the back stairs (or the adjacent doorway) and into the small room. The earth-friendly ethos of Broadway East carries over to BEast's bar menu, and the excellent roster of high-end, high-minded organic cocktails like the Zulu Basil (Tru Organic Lemon Vodka, lemon syrup and basil sorbet) will definitely get the juices flowing.

While the spot isn't huge, the double-height ceilings, exposed brick and wall of ivy creeping toward the skylights might encourage some lofty conversation.

Not that you need any encouraging.