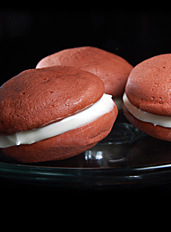 Those were some impressive stunts yesterday.
The chocolate fondue baths. The bobbing for Peeps.
Yet still, your hunger for last-course-related things has not been sated...
Enter
The
Dessert Pusher
, a new dessert-only food truck with a rotating collection of whoopie pies, turtle brownies and other midday cure-alls, officially making rounds starting this Friday.
This is where you'll go next time you feel like throwing an Edible Arrangement across the conference room. You'll hunt down the unassuming white truck manned by a woman named Aisha Cheeks, whose 17 years of confectionary tinkering have resulted in glorious things for the citizens of this sugar-deprived metropolis. Things like
fig and mascarpone bread pudding
and Black Forest cake by the truckload.
So if it's a quick midafternoon pit stop, go for the crème brûlée or salted caramel brownies. If you're headed to a post-lunch vodka vs. gin focus group (like you do), scan the tray of whoopie pies
—
red velvet, grasshopper and s'mores—and fortify your constitution accordingly.
For now, you'll want to follow Aisha's Twitter feed to find her. But soon enough, you can expect rounds at all the regular haunts.
And by haunts we mean... well, parking lots.