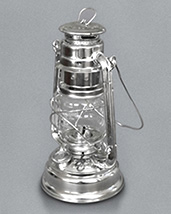 Life's about the little things.
A suggestive glance. Sandwiches. Saying the word "hullabaloo."
But we're not here to talk about those types of little things today.
Nope. We're here to talk about cast-iron nutcrackers.
And stuff...
Welcome to
Labour and Wait
, a grab bag of British miscellany and magnificently awkward widgets that you never knew you needed, online now.
It's like someone merged a '60s-era hardware store with a quirky designer's apartment, threw it online and called it a day. And it all started with a team of Brits who grew weary of subpar products (we're looking at you, toothbrush) and vowed to collect the best of the best for your perusing pleasure.
So in lieu of that garden-variety Oral-B, they've got a Victorian-style toothbrush with a bone handle and natural bristles. And for that flickering lightbulb in your study: a Swiss-made Edison bulb that shines for 4,000 hours.
But more likely, you're thinking ahead to summer's more... intimate pre-pool brunch parties. Naturally, you'll be needing a feather duster made with real ostrich quills (yes, it's going to be that kind of brunch). They've got you covered with a duster from Belgium and feathers that have a natural static charge.
Just kidding, you'll never need that for brunch.