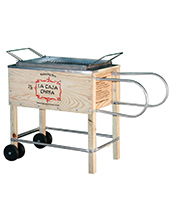 Hey, you look hungry.
Maybe you could go for a nice grilled bratwurst. Or, you know, 4,000 of them.
Presenting
La Caja China Roasting Box
, here to bring your BBQ game up to pig-roast levels, available now.
Sure, you've got your little roof deck Weber. But for too long now, slow-roasting an entire swine over burning charcoal in something that looks like a plywood foosball table, on wheels, has been on your list of needed acquisitions. Boom. You got it.
So picture it: it's a Sox home game. The roar of Fenway herself seems as if it's carried on the wind (all the way to your New Hampshire lake house). You've wheeled this to a position that lets you see the game on the outdoor flat-screen
and
man the meat (all within arm's length of the full bar).
About that meat: you can roast a whole pig on this bad boy, 18 chickens, six turkeys or up to 10 slabs of ribs to sate the appetite of a pack of wild, salivating hyenas (read: your friends).
And don't worry about the box catching fire. It's lined with marine-grade aluminum.
Unfortunately, it's not seaworthy. Trust us.