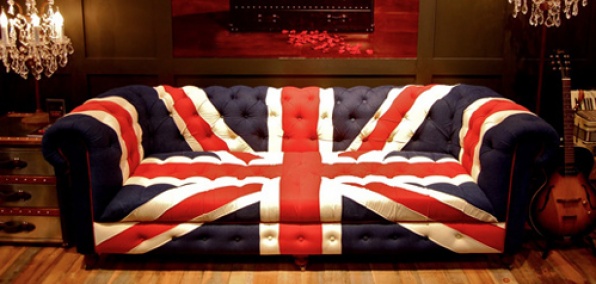 We hope you're sitting down.

Actually, no, stand up. We've got some handsome chairs for you. Not to mention a coffee table, a couch made from the Union Jack and an armoire approximately the size of a house...

Shake hands with Timothy Oulton, a British chap making some of the finest tufted-leather glory you'll ever have the privilege of splaying out on, available online now.

We confess. It's furniture. The kind that you fill your domicile with. (Especially when you start to call it a domicile.) It's chairs and couches and giant footstools and even the occasional novelty-sized physician's bag/chest, all made of the kind of leather that feels like it was seized from the Crown during the Revolution. Also: ancient-looking wood and steel that were repurposed from actual airplanes (human flight always takes a backseat to your living room).

So say you've got an apartment theme that runs along the lines of 19th-century English gentlemen's club (and really, who among us doesn't). There's an entire branch of the line that includes massive, studded-canvas couches made out of the Union Jack. You'll pick one up. And maybe a fuselage-based ottoman or two. Oh, and yes, he does custom pieces.

Just in case you're more of a stars-and-stripes type.