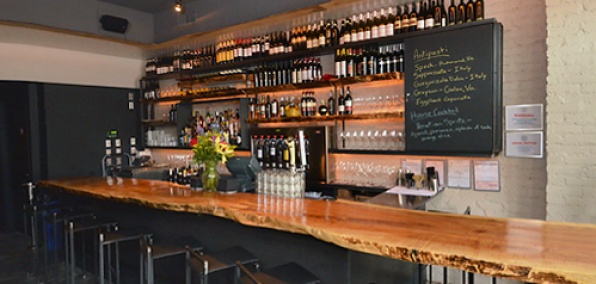 Sometimes you need to go big. Big, loud dining rooms. Sitting at big tables with huge rib eyes and even huger magnums of cabernet.
But not always. Sometimes the situation calls for someplace tiny. Low-key. Discreet, even.
For those times, better add
Maple
to your mental database. A little nook of a neighborhood spot, it opens tomorrow night.
If you like the diminutive Room 11 down the street—or if you just like bars—you'll love this place. The dark, modestly sized room is dominated by bars—specifically, a giant slab of tiger maple rescued from a swamp in Pennsylvania, and a smaller slab affixed as a rail along the back wall (which is made of chalkboard, so if you ever wanted to draw a caricature of your date, now's the time).
Despite the Canadian connotations here, you'll be pleased to know they're
leaning Italian with the menu
—think small plates like salmon roe and mascarpone bruschetta, tagliatelle with lamb ragù and Nutella panini for dessert.
Of course, if you show up early enough to land one of the coveted tables in the open bay window, you can devote a whole spring evening to sampling their eight wines on tap, plenty more by the bottle, craft beer from Italy and specialty cocktails made with rare spirits like blue-corn whiskey from Texas and absinthe from Montana.
All the best wormwood comes from Billings.