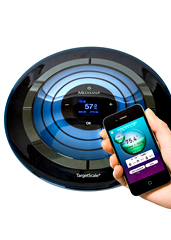 Summer.
You can't say it hasn't given you fair warning. (Heatstroke usually is not why one becomes sick on St. Patrick's Day.)
That means your abs will likely be called on to show themselves in public sooner than ever.
So you might need some assistance in getting them ready for their North Avenue Beach debut. For that, we've enlisted—of course—the Germans.
Meet
Medisana TargetScale
, the most advanced weight-loss technology Europe can produce, available for international shipping now.
This scale has some pretty neat tricks up its sleeve. For one, it communicates with your iPhone via Bluetooth to keep track of your weight. And that's great. Not particularly amazing, though. It's a scale, after all. And at this point even your dog is connected to Bluetooth.
But to really get a sense of the enormous achievement here, imagine Dr. Mehmet Oz reincarnated as a bathroom scale (frankly, he's probably hoping for that). Because when you step on this scale, you'll also be calculating and tracking your body mass index, body fat, muscle mass and bone mass.
Plus, you can set a target weight. Every time you hop on, concentric blue rings light up, gradually moving closer to the center until you reach your goal.
Consider it a video game for your love handles.