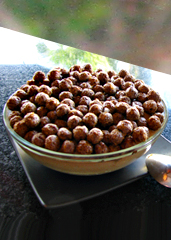 Come with us on a little journey through time...
You: staying up past your bedtime. Jumping on the bed and engaging in pillow warfare. Sneaking some late-night Cocoa Puffs.
Yep, tonight's gonna be great.
Presenting
Hair of the Dog Mousse
, a new off-menu, cereal-based cocktail/dessert, being served now at Eating House. (Note: you're on your own for the pillow fight.)
We can see it now. Eating House. Almost midnight. A table by the window. You: ordering up this not-so-innocent bowl of cereal. And possibly wearing PJs.
The magic here lies in the process. You see, a scoop of Cocoa Puffs is blended with a healthy dose of Frangelico (or bourbon) and turned into mousse via a nitrous-powered charger. The milk: panna cotta anchoring your bowl. The result: a liquor-laced whole-grain cloud topped with candied Cocoa Puffs and coffee beans that have been ground with sea salt.
As for taste, well, just like splashing some whiskey in your bowl of Puffs.
Not that you've ever done that before.