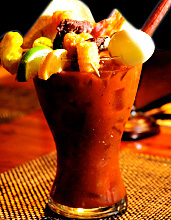 What we're about to tell you may very well change your life forever.
Paradigms will shift. The space-time continuum will stop doing whatever it does. And you will...
On second thought, forget all that.
Let's just get to the part where you drink vodka through a meat straw.
Behold the
Bloody Best
, the most horrifyingly magnificent Bloody Mary you're likely to ever encounter in this lifetime... or at least the one with the most steak and tater tot skewers, available now for Saturday and Sunday brunch at the Nook.
Look at that picture up there. Go ahead, take it in. Your knee-jerk reaction now: no. Your knee-jerk reaction on Sunday morning after 17 rounds of 4am karaoke with Little Richard: "Utah, get me two."
So let's just get into this thing, shall we. What you're dealing with here is a 16-ounce Bloody served with one skewer of steak and tater tots, another with peppers and blue-cheese-stuffed olives, and then rimmed with a hard-boiled egg and a piece of toast. Then they put a stick of bacon in it. And then a motherf***ing beef straw.
It's brunch in a glass. It's the liquid equivalent of taking two defibrillation paddles to the chest. And most importantly, it's real.
Real ridiculous, but who cares.