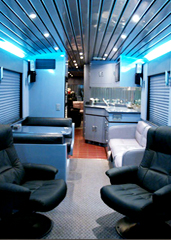 It always makes sense to ease into a big date. A fireside martini. A mojito or two on a well-selected rooftop.
A glass of champagne on a former rock tour bus.
Let us explain that last one.
Presenting
Luxury Bus Service to the Inn at Little Washington
, taking reservations now for its three debut trips in April to the destination dining room.
The key thing to note here: this gleaming black, totally customized über-bus has transported its fair share of rock stars.
But you won't have to lift so much as an amp to climb on board. You'll just roll up to the Jefferson hotel to find your chariot awaiting you. Inside: captain's chairs, couches and a wet bar, from which they'll serve you a gratis glass of champagne on the 90-minute ride into horse country.
From there, you'll
choose your tasting menu
as you would normally (don't miss the mac and cheese with black truffles).
Amidst all the caviar and bordeaux, your party may have gained a groupie or two, but alas, the time will come to leave them behind. Around 10pm, the driver will fire up the bus again and you'll settle into one of the leather seats as you quietly bask in the glow of culinary excess on the way home.
Or lead your bus mates in a rendition of "Tiny Dancer."