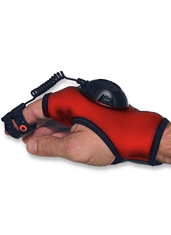 We live in strange, silly times.
A cultural epoch littered with Real Housewives, the
Twins
sequel (seriously) and 49-year-old baseball pitchers.
So it's fitting that only in days like ours has something like this ever been given life...
Introducing the
USB Wireless Air Mouse
, a neoprene-like glove that allows you to control your computer's mouse in the air, available now.
Basically, this is the modern-day version of that hand-glove thing Pierce Brosnan wore in
The Lawnmower Man
. (If you didn't catch
The Lawnmower Man
—or forgot Pierce Brosnan was in it—just trust us on this.)
To use it, you'll plug the USB receiver in and slip this on (with the option of doing an evil supervillain power-cackle). Once it's snug, you'll be able to control the movements and commands of your mouse as you would a regular mouse, with the left and right buttons you normally use located on the index finger (finally, controlling power at the tip of your finger).
The most fun part: you hold your hand in a Green Lantern-esque extended-fist motion as you press the buttons on your index finger. All while you grab, click and rule over the will of your mouse with every wave of your hand.
Next up: velvet house slippers that control your TV.