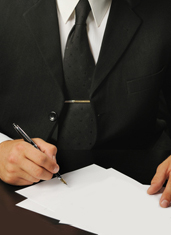 National Peanut Butter and Jelly Day is Monday.
You knew this, of course.
And you're going to need a way to show the good people at Smucker's just how grateful you are for their efforts.
This is it.
Introducing
Thank Goodness
, seemingly handwritten thank-you cards that show your gratitude without you lifting a finger, available now.
Imagine sitting down with pen and superior cardstock to write dozens of thoughtful notes—expressing your undying appreciation for people coming to your party, getting you a housewarming gift or securing your diplomatic immunity. Now imagine having somebody else do it. Here you have it.
First things first: they'll need a writing sample. Because they're going to make a font out of your handwriting. So fill out and scan the Handwriting Conversion Packet, and they'll take care of the rest (you love a good packet).
From there, pick out a card style—we're thinking something that expresses how indebted you feel for all the Cadbury eggs. Tell them how many cards you need, your preferred inscription and the envelope you'd like. If you're feeling especially considerate, include some body text. If you're feeling slightly less considerate, you can have them take care of that for you, too. After that's all handled, they'll ship you the cards so you can send them out.
We'll assume you can handle that part.