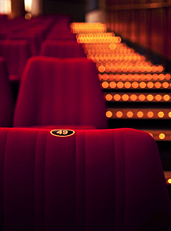 You know a little something about cinema.
Sure,
The Hunger Games
packed some houses last weekend. But you've got the inside line on a scrappy little underdog called
The Godfather
...
Take a first look at
Tugg
, a new crowdsourcing website that works with theaters to show whatever movies you feel like watching on the big screen, in private beta mode now.
Think of this like Kickstarter for the movies—head to the website, propose a movie you want to see, a date and a participating theater, and then tell all your friends. If enough people band together to buy tickets, then the movie shall be screened.
So yeah, if you want to test out a rough cut of your indie before Sundance, you can use Tugg to do that. But it'll probably be more fun to just invite a bunch of people to see
Wet Hot American Summer
on the big screen, as it was meant to be seen. (The small screen just doesn't do jean shorts justice.)
They're still testing out the site, but you can sign up now to get notified when it's fully active here in LA. The advisers include Terrence Malick and Ben Affleck.
But there's no obligation to book
Reindeer Games
.