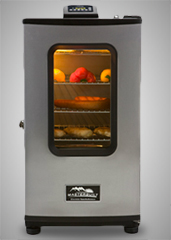 The remote control is a powerful thing.
Changing the channel. Pumping up the volume. Smoking your brisket.
About that last one...
Meet the
Masterbuilt Electric Digital Smoker
, a handsome smoker that you can control with a remote, available online now.
Yep, it's finally happened. Some enterprising mastermind has treated a 40-inch chrome brisket-cooking machine (outfitted with a wood-chip burner and a digital thermostat) like it's the DVR for your flat-screen. Except now, when you see smoke, it's a good thing.
So, your inaugural spring cookout: a beautiful celebration of rebirth and made-to-measure rib bibs. You'll start by loading up the four food racks as your guests arrive.
But let's say that as you place the meat thermometer in the ribs, you're distracted by an emergency: Grandma and Schmidt (the intern) are arguing about the BCS system. (Again.) You'll grab the remote, set the desired temperature for the cooker and go to defuse the situation. At some point, you'll hear an alarm. It's the remote—the ribs have been perfectly smoked.
If only it could pour you a beer...