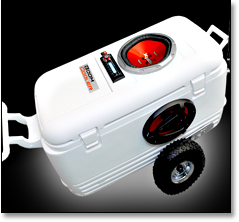 As summer turns to fall, you know what that means—the occasional triple-digit
heat wave to remind you summer isn't dead yet.
 
Keep the beach parties going with the new BoomCooler, a mobile stereo unit finally addressing the deficiencies of other sound systems—you know, like a place to stow your sandwich.

But first, the sound—BoomCooler packs a 10-inch subwoofer, two more six-by-nines and a 600-watt Sony Xplod amp into the deceptively cooler-ish package on wheels. It's rigged up to pull in sound from a built-in CD player, Sirius Radio...or the "Summer in October" playlist in your iPod.

Of course, the cooler isn't exactly a cooler—the creators have for some reason decided that a bunch of melting ice sloshing around inside your electronics may not be the best idea. But we're guessing if you throw some beers in the storage space with your beach towels, they wouldn't be around long enough to do any harm.
 
Or you could just bring a cooler with your cooler.