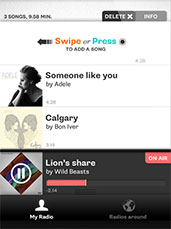 Great moments in radio rebellion:
1938:
Mercury Theatre on the Air broadcasts
The
War of the Worlds
as fake news, and listeners think it's real. Chaos ensues.
1990:
In
Pump Up the Volume
, pioneering shock jock Christian Slater cranks Leonard Cohen and exposes corruption at his high school. Samantha Mathis promptly doffs her sweater.
Today:
You simply pull out your phone...
Behold the musical stylings of
WahWah.fm
, a new app that turns your iPhone into a pirate radio station, available now.
All you have to do is download the app—it's free—and create a suitably epic playlist. When you press play, you're live for any other app subscribers who want to listen.
Your potential listeners will find you one of two ways. One, they're just browsing stations on this thing, come across your past playlist and dig the way you transitioned from Gotye to Bell Biv DeVoe. Or two, they just see which DJs happen to be in their immediate vicinity—like across from them in the café—and tune in.
And technically this isn't a pirate operation, so don't worry—you won't end up in the clink like Slater. The makers of this thing haven't gotten the rights to broadcast
every
song in your iPhone, but most of them aren't a problem.
In short: watch out, Seacrest.