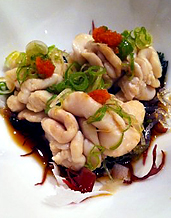 Let's play a little game of Truth or Dare.
Only instead of getting to choose, you have to pick dare.
And then you have to go to Octopus Bar and eat cod sperm. And hog brains.
Here goes...
Welcome to
An Offal Good Time
, a full evening of moonshine cocktails, nervous laughter and course after course of... atypical foodstuffs prepared by five of the city's finest chefs, taking reservations now for this Sunday night.
If the producers of
Fear Factor
tripped and fell into the James Beard House, they might emerge with a harebrained scheme that'd look a lot like this. Yes, we're talking a full-on five-course organ-meat dinner here.
And sure, this whole thing may strike you as a bit off-putting at first. But considering the fact that your guest chefs for the evening hail from places like Empire State South, Miller Union and So Ba, it's safe to say you're in good hands.
Your plan of action: scoop up the most adventurous viscera enthusiast you know, head to Octopus Bar in the EAV and take a seat.
Cheerwine and moonshine cocktails will flow.
Beef Heart Tartare
and
Monkfish Liver Torchon
will be passed. And you will finally join the illustrious ranks of those who... have eaten that stuff.
Anyway, the moonshine should help.