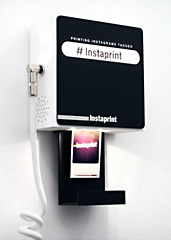 Ah, the photo booth.
A timeless invention that lets you invite a friend, shut the curtain and get steamy for a minute or three. (Also: it takes pictures.)
The only problem: not exactly portable or apartment-friendly.
Well, prepare to meet the next best thing...
Meet
Instaprint
, a small home photo booth that immediately prints Instagram photos, available for preorder now.
Imagine if Instagram (you know, the app that showed you how much more poignant things are in sepia) got together with the aforementioned photo booth. Then they had a small child that instantly printed photos on inkless paper as people tagged their locations on Instagram. That's this thing. (Also: a pretty ugly baby.)
This is going to kill at your next
Eyes Wide Shut
–themed social gathering. All you'll do is set a location or a hashtagged topic (say, #thismaskisitchy) on the printer. And then people will take photos on their phone, as they so love to do. You're free to do the same.
And when those photos hit Instagram with the aforementioned hashtag or location tag, they'll be printed in honest-to-God, tearable, flammable photographic form, including comments.
Emphasis on flammable.