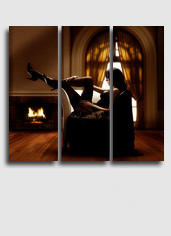 It's tragic.
Those photos you humbly post to Facebook... they only live online. They deserve to be on a canvas... at the MoMA... guarded with lasers.
Or at least in a nice frame on your wall.
Meet
CanvasPop for Facebook
, a service dedicated to turning your modest Facebook photos into breathtaking art, online now.
So, CanvasPop. You might
remember them
as the company that turned that digicam shot of you and Nolan Ryan recreating the Robin Ventura fight scene into a beautiful canvas print. Now they're doing the same thing for your Facebook pics.
How this works: you'll log in to CanvasPop via Facebook. Before you: all your photos (yes, even that cover image with the Dalai Lama at EatZi's). Pick one, select a frame and choose from various effects—for the Lama, we recommend the oil painting filter. Then, CanvasPop takes over, working magic on your photo. So if that shot happens to be a tiny file, they can blow it up, make a few digital improvements here and there, and turn it into a massive canvas, suitable for framing above your mantel.
Then, two days later, a glorious masterpiece will arrive at your front door.
Unfortunately, they don't make statues.