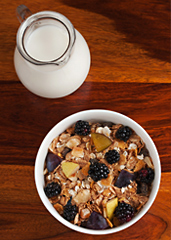 Tony the Tiger. Jerry Seinfeld. Those tiny demons that make Rice Krispies.
Legends all in the hallowed field of cereal.
And you're about to join their ranks...
Break out the good spoons for
Cerealize
, custom cereals delivered to your door, taking preorders now.
It all started, as so many great cereal breakthroughs before it, at a hackathon a few days ago at South by Southwest. Which, somehow, is where a group of folks invented this elegantly genius concept—allowing you to create your own cereal and have it sent to you.
The result: a damn good possibility of you sitting down to a bowl of cookies topped with marshmallows very soon. (Or just eating handfuls out of a box.)
Because yes, cookies are an option here. As are corn flakes, Cheerio-like O's, puffed quinoa and honey-roasted oats. But as any distinguished Lucky Charms connoisseur knows, it's all about the
other
stuff. Which is why you're going to sprinkle some dried mangoes, chia seeds, chocolate-covered espresso beans and maybe some tiny Peeps into the box as well. And that's really how it works. You pick a base and some extras to throw in with it. Then you name it.
In a couple of weeks, they'll start shipping them, and you can schedule regular delivery of... oh, let's call your mix the Cereal Killer.
It was a good run, Kellogg's.