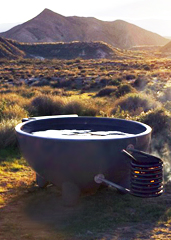 Consider the hot tub. The muscle-relaxing power of the jets. The warm, watery invitation to toss back a beer or two. The room for a plus-one... or plus-three.
Yep, not much to improve upon.
Or so you thought...
Presenting
Dutchtub
, a portable hot-tub game-changer, available now for your considerable soaking and beer-drinking pleasure.
Once upon a time, you could
only rent
this bad boy out for a limited amount of prime-time simmering. But now it's available for purchase. And its next rightful owner: you.
We'll break it down for you. Basically, this is the pop-up camper of hot tubs. You'll load up this fiberglass human crock-pot on top of your car and take it to your desired tubbing destination. Then, after a quick couple of steps that involve loading a spiral fire basket with wood and starting a small blaze (easy), you'll fill your tub with water. And within an hour or two: 100 degrees of simmering bliss.
Allow us to paint a picture. It's Ultra. The day: sunny and standing-room-only. Day-glo: on miniskirts everywhere. You: feeling resourceful. At this point, you'll want to head back to the parking lot, unload some refreshments from the cooler and wait it out with a mid-festival soak in your tub with up to three guests.
Day-glo rubber ducky not included.