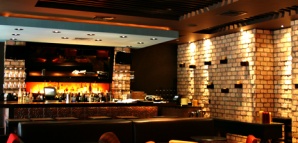 Typically, you pass on any spot north of the Dade line. The scene there is a little too Tommy Bahama, not enough Tony Montana.

But we've found a place that should raise your opinion of Ft. Lauderdale nightlife. Introducing YOLO Restaurant and O Lounge, opening today on Las Olas Boulevard.

For starters, you'll like the sprawling space's contemporary rustic vibe. A gleaming open kitchen flanks one side of the dining room, where a wood-burning oven and stack of firewood keep things primal. YOLO (You Only Live Once) comprises four separate areas depending on your evening's needs. Grab a drink on the outdoor patio with bamboo walls and a fire pit, or head inside to the main bar to survey the dinner action. Leather banquettes and an indoor tree keep things cozy, and when you're ready for something a little more dark and mysterious, veer left into O Lounge, with cushy leather chairs, hundreds of candles and another bar.

Dishes like meatball sliders with herbed ricotta and slow-cooked Danish pork ribs with green apple slaw are motivation enough for the cross-county trip. Or you could get to know a Dirty Blonde, made with vodka, Lillet Blanc and olive juice.

Then again, you may be good in that department.