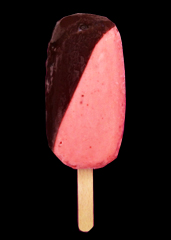 Step outside for a moment and you'll be immediately struck by two thoughts:
1. It's not August.
2. But it sure feels that way.
You're gonna need something to take the edge off of this heat.
Allow us to suggest some cool rice pudding... delivered to your doorstep... on a stick.
Something like
Dolci Peccati Gelato Pops
, now adding delivery to their résumé and spreading their gelato pops all around the city.
Essentially, it's like pizza delivery... for popsicles. Anytime you want one (or, technically, at least a dozen), you'll just send an email (subject line: "It's Excruciatingly Hot Today"). Then, aside from answering the front door, your work is done.
On the menu, you'll find flavors like mango and passion fruit—basically, what a tropically situated Good Humor man would serve. But you can also create custom orders—say, sweet potato with marshmallow and coconut. (Finally addressing your whole Thanksgiving-on-a-stick concept.)
They'll also ship their gelato pops anywhere in the US. So say you want to give some special someones a taste of home while they're traveling for work. You can place an order for guava mojito pops and it'll arrive anywhere within two days.
The Heat dancers can get you back when they return.