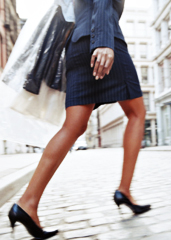 Batman. The Fresh Prince. Arthur.
Behind every great man is a butler willing to get the job done.
You probably know where this is heading...
Say hello to
Exec
, a real-time job dispatcher connecting you with personal assistants who are willing and able to do your dirty work, available now in San Francisco by invite only (no worries, we've taken care of that).
Think of it like a mashup between Uber and TaskRabbit. But instead of summoning a town car, you'll be sent an assistant (known as an "exec") to run your errands for you. And since you don't have to field bids from prospective assistants, you'll save yourself precious time.
All you need to do is type in your request. These can be the usual dry-cleaning or grocery pickups to something less mundane like a quick In-N-Out run or picking up the phone you left at a bar. With a little more imagination, you could have an artistically inclined assistant whip up a painting as a gift or appoint someone to book last-minute flights to Mexico (maybe make that "and").
Right now, they're only online from 9am to 9pm, but they'll be expanding to 24 hours a day in the near future.
You know, for those 2am oyster and champagne runs.