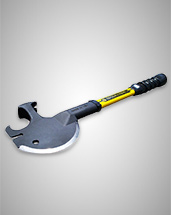 The anticipation was huge.
A legendary gadget. A momentous upgrade. Some much-needed new features and tricks.
Yep, it happened: your hammer just got a pry bar. And an ice remover. And, what the hell, an axe...
Introducing
Trucker's Friend
, a completely ridiculous (yet highly necessary) seven-in-one all-purpose tool, available soon.
This is the kind of thing that would make MacGyver say... "Hmm, not sure I need all that." It's a hammer. It's an axe. It's a spanner, a nail puller, a tire-chain hook, a pry bar, an ice remover and a lever. It doesn't have a camera... but we're sure Trucker's Friend 2.0 is just around the corner.
We see this thing being useful in a few different situations. Pulling a stuck golf cart out of a dangerous sand trap, right before you chop down an offending tree. Resting on your mantel to intimidate guests. And as you probably guessed from the name, it's handy just to keep in a truck in case you encounter a mud pit/fallen oak/emergency nail-pulling situation. Just pull it out of the sheath and go to town.
Right. The sheath. We forgot to mention the sheath.