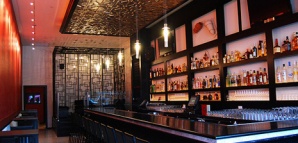 Fortune cookies. Martinis. The Gap.
All got their start in San Francisco. And now you can add one that's making a comeback: Pisco Punch.
Yes, they're serving it waterside at
La Mar
, but the only place in town using the original, century-old recipe is
Pisco Latin Lounge
, flipping its sign to
abierto
on Friday.
The pressed-tin ceiling might remind you of a pre-Prohibition saloon, but the Carrara marble floor and long ebony bar will make you feel like you've hopped a cross-hemispheric flight and ended up in a swank Buenos Aires lounge. (With any luck the clientele will be just as tan.)
Lead her back to the sofas, boarded by a water-filled moat that creates a candle-lit mood without the fire hazard—and share tapas like
Peruanitos
(mini-burgers and yucca shoestrings) or sweets like the
Bomba de Chocolate
.
While the tequila-based
El Flaco
and long list of South American wines are tempting, you'll want to start with the aforementioned
Original Recipe Pisco Punch
. It's made with a special combination of lime and pineapple, plus one ingredient we promised we wouldn't divulge.
You'll just have to keep ordering until you figure it out.