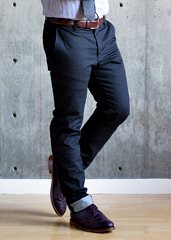 A short debate on the topic of made-to-measure denim trousers:
Pro: you get pants that are dressier than jeans, but less dressy than a suit.
Con: the word "trouser" is involved.
Too close to call. Let's explore further...
Presenting
Jack
, handcrafted jeans and the latest made-to-measure endeavor from the local duo at Fifth & Brannan, who are taking measurements and orders starting today.
Basically, you'll look to these slim, straight denim trousers on that rare occasion when jeans are too casual but a three-piece suit would be mildly inappropriate. Or more likely, you'll find yourself reaching for these when you're weaning yourself out of a heavy jeans phase.
Turns out, this
budding SF label
made connections in North Carolina at Cone Denim, resulting in the acquisition of lighter-weight, 11-ounce dark denim (a full two to three ounces lighter than most selvage). All of this means that you could sub these in for khakis as part of your warmer-weather rotation or for any Sonoma picnicking requirements.
But first things first. They need to make your jeans. And that requires sending in your waist/inseam combo. From there, one person will construct your pair from start to finish, and two weeks later: pants.
And you'll be pleased to learn that this magic happens right here under the watchful eye of an ex-Levi's/Dockers denim specialist in the Mission.
First burritos, now pants.