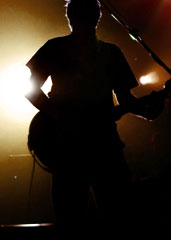 SXSW is full of distractions.
The groupies. The amps that go to 11. The rivers of queso on South Congress.
What you need: an ironic T-shirt and perhaps some skinny jeans. Also: something like this...
Presenting
Suggest.by
, a site that'll plan your entire South by concert schedule based on your taste in music, available now.
This is like Pandora for next week's festival. Step one: create a Last.fm account (easy). Step two: let this site analyze the bands you like and create a six-day itinerary with every show you need to see. Step three: pack your concert survival kit (lighter, bandana once owned by Springsteen, pocket flask) and head to Austin.
And if you find yourself calling an audible—either you're not digging the picks so far, or you're just in the mood for something different—the site can handle that, too. You'll see a few different options for each night—meaning that if you don't think you can handle Caveman, it'll guide you to the Ishi concert at Buffalo Billiards instead.
And because the site connects to a GPS-based meetup app called Forecast, you can see what shows your friends are attending at the same time.
Or you could just, you know, text them.