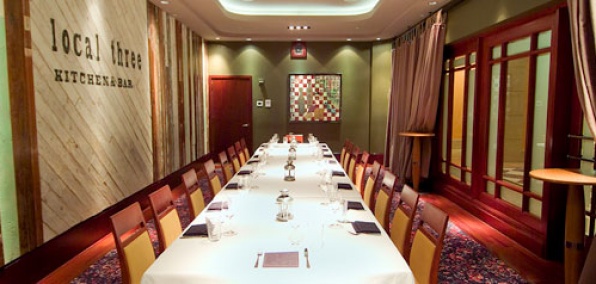 For the most part, the dinner-and-a-movie experience falls just short of, let's say, avant-garde.

It's a safe and effective date play, sure. But all that getting in the car and driving two miles from restaurant to theater business... waste of valuable pork shoulder time.

Allow us to suggest dinner at Local Three.

And a movie. At Local Three.

Welcome the aptly named Movie Night at Local Three, here to inject your wining and dining with the necessary amount of Caddyshack-ing and Big Lebowski-ing, taking reservations now for this Sunday and beyond.

You'd expect nothing less from the guys who brought you such flick-centric menu items as The McDowell (hat tip to Coming to America) and the Tony Montana (hat tip to Scarface... and pork chops). So now they're taking the next logical step.

And to take it with them, you'll need to escort your date to the private Bushwood Room, where Chef Hall will be waiting. Also, a giant projection screen playing anything from Caddyshack to Fletch to Big Trouble in Little China.

This week, it's The Big Lebowski. And considering the entire menu is inspired by the movie, you'll be looking at equally Dude-abiding dishes like the I Can Get You a Toe by 3 O'Clock (it's a jalapeño stuffed with shrimp, wrapped in bacon, then fried) and the Nobody F***s with the Cheesus... which is cheesecake.

Just amazingly named cheesecake.