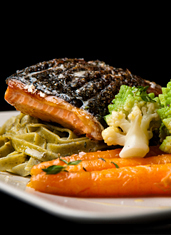 Tell your pizza guy we're sorry.
You know what, say the same to your Chinese takeout team. And if you see your grilled-cheese hookup... there aren't even words.
You see, food delivery as you know it is about to change forever...
Introducing
DiningIn
, a game-changing service that'll bring you food from restaurants that normally don't deliver, taking orders now.
Let's put it this way. Bread Winners: now delivers. Taverna: same deal. Patrizio: yep.
Imagine the scenario: you're finalizing the details of your modest Big 12 tournament watch party, making sure the Pop-A-Shot chain nets are hung just right. Only one tiny, teeny thing is missing: food.
You'll jump on this site and enter your zip code. Then all of your options will appear before you—Primo's. Toulouse. Village Burger Bar. But let's say you go with Sonny Bryan's—something about hoops and brisket sliders feels so right.
You'll order enough for your party (and to cover the $15 minimum), then specify when you want it. Most times, as soon as possible. But hey, why not schedule a delivery of emergency pulled-pork sandwiches to fuel a second-half comeback.
The things you do for your team.